Writings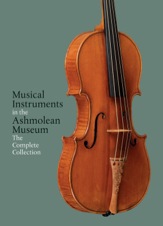 'Musical Instruments in the Ashmolean Museum: The Complete Catalogue', edited by John Milnes.
Oxford Musical Instrument Publishing
, 2011.

Lynda contributed essays on the history of the baroque guitar, English guittar, and cittern, and together with luthiers Stephen Barber and Sandi Harris, texts on the 12 important plucked instruments in this collection.

'… a must-have for the serious instrument enthusiast.' The Strad Magazine, December 2011.

'…outstanding team of contributors… will continue to be a valuable work of reference in years to come…' The Galpin Society Journal, March 2012.

Awarded the C.B.Oldman prize for 2012 by the International Association of Music Libraries.



'Signor Franciolini's shop of horrors: the 19th century lute faking industry', Lute News, 91, transcript of a paper delivered to the Lute Society, 2009.

'Reconstructing the lute consort', Lute News 88, transcript of a talk delivered to the Lute Society, November 2008.

'L'arciliuto a Roma nel XVII e XVIII secolo', essay for exhibition catalogue 'Leutaro in Roma', Palazzo Venezia, Rome, October - November 2007.

'Baroque lute without tears: the gallizona and its repertory'. Lute news, October 2003. (Transcript of a paper delivered to the Lute Society.)

Ten lute-related articles in the Revised New Grove Dictionary of Music and Musicians, including 'Archlute', 'Liuto Attiorbato', the 'Tunings' section of the Lute entry, the lute makers Rauche, Frei, Hartung, Buechenberg, Maler, Unverdorben; also an update to the article on Hans Gerle; published 2002.

'He was Likewise Musical ... an Unexplored Aspect of Grinling Gibbons', co-authored with woodcarver and Gibbons authority David Esterly, published in Apollo, volume 151, n.s. no.460 (June, 2000), pp.11-21. A highly illustrated discussion of Gibbons's woodcarvings which incorporate musical instruments and/or pieces of music, including identifications of all of the musical extracts, and an analysis of their implications for the dating and authentication of the woodcarvings, and the light which they shed on Gibbons's musical knowledge and interests.

Rattle and hum: Extraneous noises and how to cure them. First published in Lute News 44, December 1997. Click here for the full text.

Continuo Lutes in 17th and 18th Century England.
Early Music, volume 23, (1995), pp.667-684. An exploration of the types of continuo lute available in England, and the musical and iconographical evidence for and against the use of each.

Gut strings: an introduction. A step by step guide to stringing lutes in gut. Compiled with the advice and assistance of Ivo Magherini and Mimmo Peruffo. Here you can find the full text in English, or in Ivo's Italian translation.



Music Editions


Consort Music

John Dowland: Lachrimae
For five viols or violin consort, and lute. A new critical edition of Dowland's most famous work. 21 pieces, 10 pavans, 9 galliards, 2 almains. Score (including keyboard transcription of the lute part), string parts, tablature booklet for 10c lute. With historical study by David Pinto. Published by Fretwork Editions. Published November 2004.

Lute music

The following editions were all formerly published by Sul Tasto Publications, and are now available from the Lute Society.

Tunes of Old London.
Arrangements of 10 tunes from John Playford's 'Dancing Master', for 8-course lute. French tablature.

G. F. Handel, Suite in G minor.
Arranged for 14 course archlute, from the keyboard original.

Duets from the Phalèse Anthologies, Volume 1.
For 6 course lutes. 9 duets for equal lutes, 9 for tone-apart lutes. French tablature.

Wolff Heckel, Lute Duets.
12 duets for 6 course lutes, tuned a fourth apart. French tablature.

Vincentio Galilei. Five Duets from Il Fronimo.
For 6 course lutes, 3 for equal lutes and 2 for tone apart lutes. French tablature.

William Lawes, Suite for two lutes.
Three pieces for 10 course lutes, in Mesangeau tuning, together with a transcription in vieil ton, and an arrangement in C major by Christopher Wilson. French tablature.

Ernst Gottlieb Baron. Suite for 2 lutes.
For two 11 course lutes. D minor tuning. 4 movements. French tablature.