Solo Programmes


These are sample programmes suitable for full-length evening recitals with an interval. For lunchtime or teatime concerts, any programme can be modified to run without an interval. I am always interested in exploring new repertory and am happy to devise themed programmes to suit your requirements.


The Age of Gold
A voyage through the sixteenth century, beginning in the shadow of the gilded domes of San Marco, Venice, around 1500, and ending in London in the glory days of Elizabeth I. On the way we meet music from the burghers of 1530s Nürnberg, and the courtiers of 1550s Paris. The music ranges from the zestful brilliance of Joanambrosio Dalza's dances to the dark genius and tortured chromaticism of John Dowland. Performed on 6 and 7 course lutes, and (UK concerts only) bass lute. A CD of this programme, entitled 'Travels with my lute' is available (see the Recordings page).


Shakespeare's Musick
Music from Elizabethan and Jacobean England, including tunes mentioned in the plays, pieces dedicated to Shakespeare's patrons, and works written by his colleagues. Performed on 7- and 10-course lutes, this recital includes music by John Dowland, John and Robert Johnson, Ludovico Bassano and Thomas Morley. Also available as a lecture recital including an exploration of Shakespeare's musical language and imagery: this is particularly suitable for students of English literature. A duo version of this programme with Emma Murphy (soprano & recorders) is also available.


Dowland's Delight
An exploration of the life and times of the dark genius of the English lute. Music by the man himself, and also by his colleagues, his rivals, his son and his employer. Played on 7 and 10 course lutes.


Traveller's Joy
A tour of Europe, c.1620, with music from Scotland, England, France, Germany, Poland and Italy, interspersed with readings from Jacobean travel writings. From cuisine in Scotland to horse(!) couture in Poland, this is early seventeenth-century Europe in microcosm. Played on 10 course lute.


In Search of Lost Times
Very suitable for introducing the lute to a non-specialist audience, this programme includes music from two of the most important periods in the lute's long history, and some of its great masters. Music from the English 'Golden Age', by Danyel, Robinson and Dowland, and from the German high baroque, by Weiss and Straube. Played on 7 course renaissance lute and 13 course baroque lute.


Three Worlds: Lute music ancient, modern, and timeless
This programme juxtaposes the lute's finest traditional repertory with some of my favourite modern works, some inspired by historical idioms, and some certainly not! Very suitable for introducing the lute to mainstream or contemporary music audiences, this is definitely not an early music programme. Composers include Bartok, Chobanian, Maxwell Davies, Skempton, Wallace. Instruments variable; may include 7, 10 and 13 course lutes, and/or theorbo.


Tous les soirs du monde
Music of extraordinary intimacy and delicacy, from the court of the sybaritic Sun King Louis XIV of France, by his personal musicians and teachers Robert de Visée, Francesco Corbetta, Michelangelo Bartolotti, and Marin Marais. Performed on baroque guitar and French theorbos.


Bach and Friends
Bach's music is the pinnacle of many instruments' repertories and the lute is no exception. This programme pairs the master's music with works by his friend and colleague Sylvius Leopold Weiss, his student Rudolf Straube, and other lutenists who were close to the Bach family, Ernst-Gottlieb Baron, Johann Kropfganss and Adam Falckenhagen. Performed on 13 course baroque lute and mandora.


Duo programmes


'Arabesque'
Susanne Heinrich, treble and bass viols; Lynda Sayce, lute and theorbo
A varied and popular programme of music by Godfrey Finger, Tobias Hume, Marin Marais, Carl Friedrich Abel and Georg Philipp Telemann.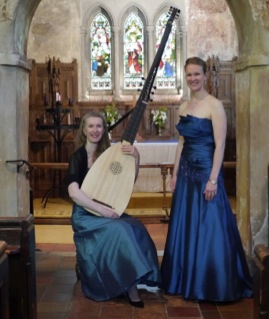 'En Evening Hymn'

Joanne Lunn
, soprano; Lynda Sayce, lute and theorbo.

A recital programme of sacred music from the 16th and 17th centuries, including lute songs by Campion and Dowland, and continuo songs by John Hilton, Henry Purcell, John Blow and others.

A demonstration DVD is available on request (European or US format).













'Mr Playford's Delight'

Emma Murphy, soprano and recorders; Lynda Sayce, theorbo, cittern.
Music-publishing in 17th century London was dominated by the Playfords, father John and son Henry, who published everything from tutor books to the latest theatre hits. This entertaining and varied programme draws on sacred and secular song publications, court airs and divisions for recorder and continuo, and cheerful dance music for the cittern.


'Christmas Past'

Emma Murphy, soprano and recorders; Lynda Sayce, gittern, lute, recorders.
Christmas music from the 14th- 17th centuries, including exquisite medieval carols, and some surprisingly familiar tunes in unfamiliar settings.